Content and collaboration platform
Share and manage content, knowledge, and applications to empower teamwork, quickly find information, and seamlessly collaborate across the organisation.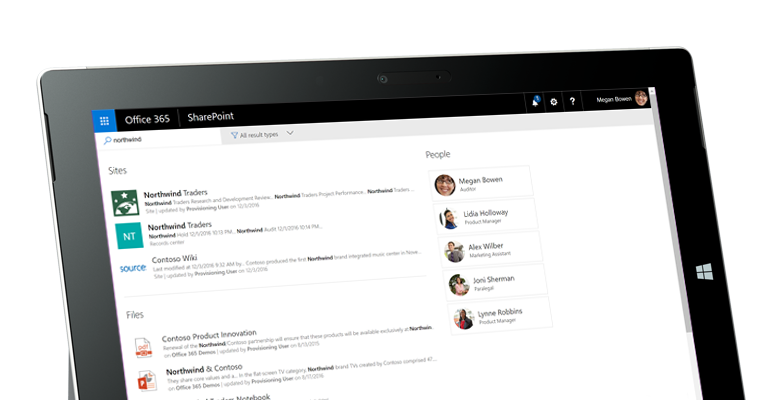 Empower sharing and collaboration on your intranet. Give people places where they can organize and collaborate on content, data, and news to stay on the same page.
Inform and connect your people with intranets and portals. Share common resources and applications and broadcast your message with rich, dynamic pages.
Rely on powerful enterprise search to find files, sites, and people. Built-in intelligence delivers the most relevant results and helps you discover information and expertise around you.
The digital workplace is a business strategy that enables new and more effective ways of working, improves employee engagement and agility, and exploits consumer-oriented styles and technologies
Our services
We love working alongside our customers to help reduce costs, realise collaborative benefits and increase efficiency by understanding your requirements, share ideas and overcome business challenges.
Development
We can adapt, bend and mould SharePoint to your organisation's needs. Our experienced team will engage with you, understand your challenges, develop the perfect solution and ensure its smooth delivery and adoption.
What we can help with
We can help with every aspect of building the right digital workplace for your business. From idea generation, concepts, wireframes, implementation and delivery.
Extend the capabilities of SharePoint to solve a web defined business problem.
Reusable components that can provide the content/interaction you need on a SharePoint page. We have experience in both the traditional web parts and the new Modern page client parts (SPfx).
Personalise the look and feel of SharePoint to reflect your organisations needs and branding.
Empower users to interact with SharePoint and its related services through conversation. Why not allow them to request leave through a simple conversation!
Training
We provide immersive real-life scenario lead workshops that are designed to support your organisation in bringing document management and collaboration capabilities using the SharePoint platform.

Migration
Migrations can be tricky business, sometimes even discovering what you have and if it's still relevant can be a challenge. Here at HappyWired we provide insight and a pragmatic approach to ensuring successful migrations.
Sometimes the latest version of SharePoint just has those features that would really benefit your organisation and users but its not always as straightforward as it should be. We have learnt from experience of common problems and the best practises for successfully completing a SharePoint upgrade.
Migrating files from network shares and other document management applications to SharePoint has many benefits.
We can migrate data from most applications and if you have a requirement not mentioned, let us know.
We offer a considered and phased approach to migrations
Consultancy
Need assistance with anything SharePoint related? We can help! Working with our team of experts you'll have all the information you require to ensure you deliver your SharePoint strategy to your business right, first time! With so many options of doing things correctly on SharePoint it's critical you choose the right path.

Our consultants can help demonstrate, plan, configure, and specify your requirements by listening to your needs and long term objectives.
Contact HappyWired Today
Having a chat with someone with a passion for what you're trying to achieve is always better than wading through page after page wondering if the company can deliver your requirements. If you'd like to ask a question, or you would like to have a friendly chat with one of our technical team, contact us below or give us a call.