Return on investment from Business Process Automation
Return on investment from Business Process Automation
HappyWired's expert view on….
Return on investment from Business Process Automation
In our previous posts, we've explored the impact Business Process Automation (BPA) can have on specific processes and large-scale projects. Now let's look at the financial nitty-gritty: what sort of return on investment (ROI) can you expect?
Whether you are looking at BPA for one process, or to completely overhaul a way of working, you can reasonably expect to achieve real value, fast. That comes in several ways.
First, removing manual and repetitive work allows employees to refocus on higher-value work. We take the view that the tasks best suited to BPA are usually mundane and tedious. Automation lets organisations take this away from individuals and use their talents for higher-value activities – whether that is new creative ideas, analysis, developing customer relationships, winning new business, or achieving the kind of work-life balance that helps attract and retain the best staff.
Secondly, it standardises practices, which is vital for compliance reasons and to ensure customer satisfaction.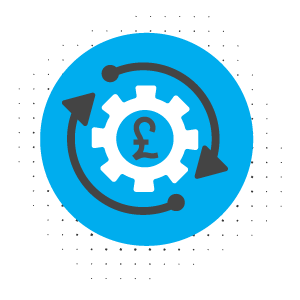 Thirdly, it allows greater managerial oversight. In our last post, we provided the example of My Time Away, where we created a comprehensive, centralised leave-management process for a client.
This benefited everyone because they could book holidays much more easily. And the visibility it gave management removed inefficiencies and service gaps that came with a disconnected leave process.
So, ROI can be achieved quickly. These automated processes were implemented fast and immediately drove value – increasing productivity, and improving quality of life.
The kind of ROI you might expect
It's difficult to make a blanket statement about ROI. As we've shown, BPA can be used in processes of all sizes and properly implementing automation is key to its success. As we've already mentioned, Thinkautomation reports that implementing automation in the office generates a return on investment of up to 200% in the first year alone.
Others have gone as far as suggesting that some companies are achieving a 400% ROI in their first year of using automation.
Gartner has consistently encouraged organisations to look at the long-term value of automation projects. Research published in 2016 noted that 80% of organisations conducting business process management projects will experience an internal rate of return better than 15%. Of the respondents, 55% had returns in the $100,000 to $500,000 range per BPM project.
As the technology improves, the barrier to entry falls, making this an excellent time to invest. By unlocking the capabilities of Microsoft 365, bespoke automation can be made fast and effectively for processes unique to your business. And all using technology you are familiar with and have already paid for.
One of our fundamental values at HappyWired is honesty. So we have to be honest and say that, in our experience, relying on internal resources to drive these projects has often led to ineffective solutions that don't deliver on what they promise.
Rapid ROI is almost always less achievable when using in-house teams, who have a wide range of capabilities and responsibilities. To get immediate benefits, companies should seek the help of people who are dedicated and specialised.
Use experts, and it will be cost-effective in the medium-term. And if you use HappyWired, we promise never to try to sell you anything you don't need.
That way, specialist vendors and end-users can create an excellent solution together.
These are exciting times. If you want to explore BPA further, pick up the phone and give us a call.