The end of Skype for Business
The end of Skype for Business
Skype for Business functionality is moving to Microsoft Teams
Microsoft are merging Skype for Business functionality with Microsoft Teams creating a great platform for team collaboration. Microsoft Teams is already a proven hub for teamwork providing a platform for any project team to have information flowing, visible and shared. This merger will provide a complete solution for collaboration (both internal and external).
Although the change seems subtle, the introduction of Microsoft Teams will provide a gateway to many of the unused applications of Office 365. For instance, files stored in Teams are actually stored in SharePoint Online and can be sync'd via OneDrive for Business.

Benefits of implementing Microsoft Teams
The impact and benefits of this merger should be considered and addressed. Managed well, the transition from Skype for Business to Microsoft Teams is a great opportunity to embrace, and better leverage your Office 365 investment.
HappyWired can help you make the most of this opportunity with:
Demonstrate the power of Microsoft Teams
Pilot Microsoft Teams with end users
Workshops on getting the most out of Microsoft Teams
Developing plans for communication, onboarding, and governance.
Solutions based around Microsoft Teams, SharePoint, PowerApps, and Flow
For more information on how HappyWired can help, visit the Microsoft Teams Page
For many businesses the roll-out of Microsoft Teams will also drive the adoption of SharePoint, OneDrive, and a host of other applications. Allowing your business to maximise the return on investment from your Office 365 package.
Microsoft will continue to support Skype for a few years more. However, you don't want your business to be left behind in all the new updates and exciting features of Teams. Becoming an early adopter will put your business in a position to utilise all of the Office 365 services and improving your digital workplace.
Skype for Business functionality will feed into Microsoft Teams over the coming year. Microsoft have produced the following roadmap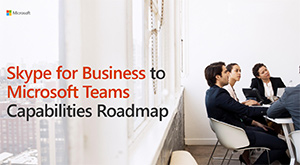 Businesses waiting for functionality to become available prior to adopting or rolling out Teams can run the two products side-by-side. This can continue until a point that all functionality is provided in the Microsoft Teams applications. The following overview shows the expected release cycle of the functionality.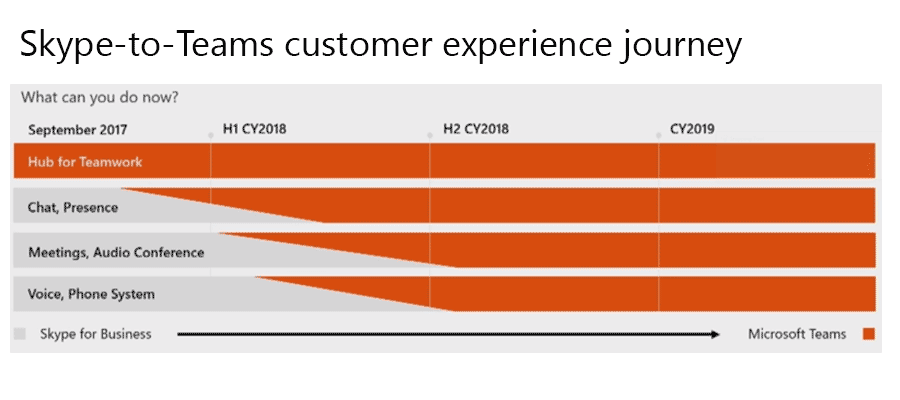 Microsoft Teams Workshops
We are going to be running Microsoft Teams workshops and short Webinars over the next few months. Take a moment to see the power of Microsoft Teams and dive into the precise areas which interests your business needs. We will be able to give you an experience that will answer both your business needs and technical questions. To find out more, please subscribe to our newsletter at the bottom of this page.